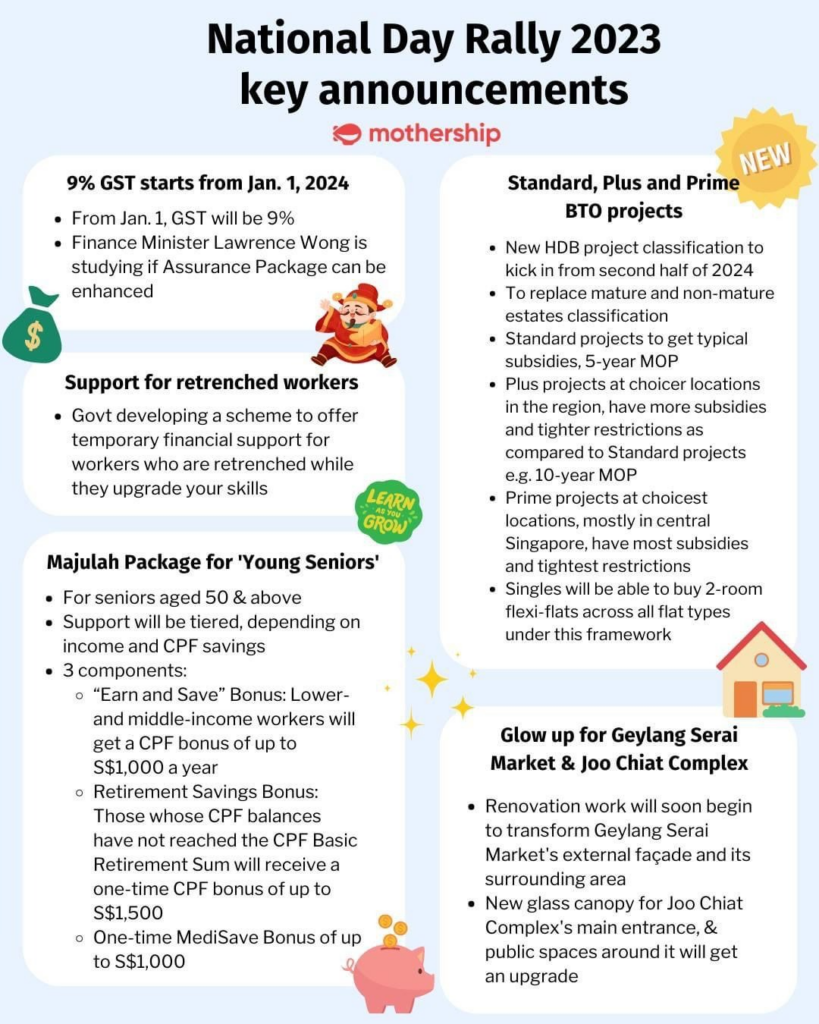 Image Credits: https://mothership.sg/
Yesterday, August 20th, Prime Minister Lee Hsien Loong unveiled a series of housing-related advancements and introduced the new S$7 billion Majulah Package aimed at supporting the retirement requirements of seniors.
Here are a few takeaways from his speech:
1. Temporary financial support scheme for jobseekers
2. Upgrading work on Geylang Serai district
3. Giving more financial support to Singaporeans
4. Addressing the recent scandals
5. The Majulah Package for young seniors
6. Active aging & signing up for Healthier SG
7. More senior-friendly HDB homes & precincts
8. No more mature/non-mature estates in BTO projects
9. More housing options for singles
In his address delivered in Malay, Prime Minister Lee Hsien Loong discussed the intricate interplay between the desire for economic stability and the reality of a volatile global economy. While Singaporeans hold aspirations for prosperity and steady livelihoods, PM Lee acknowledged the persistently uncertain global economic environment.
Despite the challenges, PM Lee emphasized that numerous prospects are available for those willing to embrace change. One such domain he highlighted is the digital landscape, where the demand for new skills and profound expertise is growing.
PM Lee emphasized the diverse roles within the digital space, from YouTubers and data scientists to user experience (UX) and user interface (UI) designers. He challenged the perception that sustainable livelihoods can't be built around online gaming, encouraging individuals to explore avenues like becoming professional players, coaches, or commentators.
The PM celebrated the growing trend of individuals, including Malay/Muslim professionals, transitioning into the digital sector. Nevertheless, he acknowledged the apprehension that accompanies these opportunities, with workers fearing displacement by robots or AI applications.
Foreseeing an era of increased job disruptions, PM Lee acknowledged the potential for individuals to face multiple job losses throughout their careers. He underscored the importance of retraining to secure better long-term prospects.
Addressing the challenges of reskilling, PM Lee mentioned government initiatives like the SkillsFuture Career Transition Programme and Workforce Singapore's Career Conversion Programme. However, he recognized the pressures of rapid change and financial obligations that might hinder individuals from pursuing skills courses, possibly forcing them into jobs that might not align with their aspirations.
Understanding these concerns, PM Lee revealed plans for a temporary financial support scheme for retrenched workers. This scheme aims to alleviate immediate financial pressures, allowing jobseekers to focus on skill enhancement for more promising long-term employment prospects.
While the finer details of the scheme are still being refined, PM Lee assured the public that the 4G leaders will provide further insights once everything is finalized.
Read More Here:
New financial support scheme to be offered to retrenched jobseekers while they upgrade their skills: PM Lee